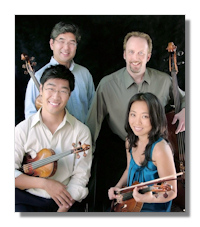 Fiery Finale for Guarneri
By Joshua Kosman

There may be no classier way to exit the public stage than by handing off the baton to a young successor - and the Guarneri String Quartet has always been the classiest of acts.
For at least part of its current farewell tour, the Guarneri is being accompanied by the Johannes Quartet, a young and – to judge from Thursday's performance – splendidly dynamic ensemble that needs to come back again soon as a headliner. In the potent performance of the Mendelssohn Octet that occupied the second half of the program, a listener could witness the mantle of chamber-music greatness being passed along.
The venerable ensemble made its final visit to San Francisco on Thursday night, playing to an enthusiastic crowd in Herbst Theatre under the auspices of San Francisco Performances. But the players weren't there alone.
Read more about this at the S.F. Gate website:
sfgate.com/cgi-bin/article.cgi?f=/c/a/2008/11/22/DDGF149J4R.DTL