CD Review
Great Artists of the Century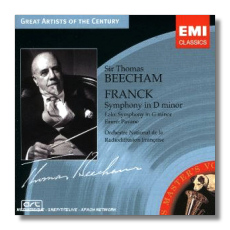 Thomas Beecham
Orchestre National de la Radiodiffusion Française/Thomas Beecham
EMI Great Artists of the Century 62948
An old friend I have referred to in previous reviews, Al Franz, used to maintain that LPs sounded better than CDs. I had to admit that was true, they had more body and richness. On the other hand they were plagued with pops, clicks, wow and flutter that made them virtually unlistenable in some cases. Sometimes, in fact, they came that way out of the package! I remember once listening to Beethoven's 9th with headphones. In the middle of the slow movement a click came through that damn near brought me out of my seat!
I wish Al had lived long enough to listen to the latest incarnations. They have improved to the point that they are better than the LPs in sound and of course are not prone to the inherent problems with LPs. This latest release from EMI is another case in point. What the previous release of the Franck and Lalo lacked was body. Now body is one of those concepts that are hard to define, but I would offer this analogy: American beers have no body. Everything is thin and watery. The same is true of the previous release of these symphonies. The previous CD soon wearied the ears. The difference in the sound has produced a different gestalt. The recording has been transferred at a slightly higher level. It is not significant but enough to produce a completely different perspective: inner detail is clearer, solos more distinctive. A higher-level in-and-of itself would only produce a higher level of dissonance, which the previous release had, but with the ART process combined we have a recording that produces a warm sound, one that invites further listening.
As for the performance, to put it in context I have listened to Monteux and Stokowski. Beecham's performance in this symphony has been referred to as 'classical-cum-romantic'. Some writers have said that it is similar to Monteux's recording (RCA 63303) but frankly (ar, ar) it isn't. Monteux provides more nuance, solos are more distinct and contribute to the mosaic. It is more emotional, more involving. It is a horse of a different color. The Stokowski is a horse of a different breed. Stokowski, like Franck, was an organist and you can feel the pedal in his stereo recording (on Cala CACD0525). My preference is for Stokowski's way with this music but others have opined that Franck would have shuddered if he heard it. To get a concept you need as many instances as possible. I think the Monteux and Stokowski provide the best around but Beecham offers at least another.
Beecham almost convinces me that Lalo's Symphony is good music. David Raymond, in The Third Ear said that the piece is "intermittently interesting" which I find fair. There are two other listings for the symphony on CPO and AS&V but I have not heard them.
Beecham's recording of Fauré's Pavane holds a special place in my memory. When I first started listening to classical music it was in 1975 whilst working on my Master's in Philosophy. The local PBS radio station had just come on the air and every morning signed in with this recording. I have waited for years for it to come out on CD and now it has. It is the perfect music to wake to and now my alarm has it programmed to do so. I have other recordings of the piece but no one imbues it with the poignancy, as does Beecham.
If you have the previous EMI release it is time to replace it. You not only get more music you get better sound, which means you get a different recording. Whilst I have other preferences for the Franck and find the Lalo as described by Mr. Raymond, I love the Fauré. Others may like the Symphonies more than I.
Copyright © 2005, Robert Stumpf II