Related Links
Recommended Links

Site News
CD Review
Fritz Busch Conducts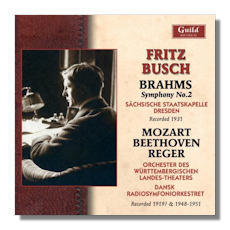 Ludwig van Beethoven: Symphony #3 in E Flat Major "Eroica", Op. 55 (Scherzo) *
Max Reger: Mozart Variations, Op. 132 *
Johannes Brahms: Symphony #2 in D Major, Op. 73 **
The Marriage of Figaro, K. 492 (Overture) *
German Dances, K. 571 (#1, 5 & 6) ***
German Dances, K. 600 (#1, 2, 4 & 5) *
German Dances, K. 602 (#3) *
German Dances, K. 603 (#2 & 3) *
Countredances, K. 609 (#1, 2 & 4) ***
* Orchestra of the Württemberg Theatre/Fritz Busch
** Staatskapelle Dresden/Fritz Busch
*** Danish Radio Symphony Orchestra/Fritz Busch
Guild Historical GHCD2371 Monaural 77:01
How you respond to historical reissues with sound that predates 1920 will ultimately determine whether you find this disc of monumental importance or utter worthlessness. Fritz Busch was an important conductor from an important musical family, but the only items on the disc that are even remotely decent sonically are the bonus tracks; two sets of dances in astonishingly fine broadcast sound from 1951. They are also utter fluff, though fans of opera will doubtless appreciate hearing these now famous tunes – in the Countredances – in their less standard orchestral form.
The rest of the disc sounds terrible, and not just the items from 1919. The 1931 Brahms finds the Staatskapelle Dresden in typically magnificent form, but also has a sonic picture akin to taking a shower while the orchestra plays outside the door. It's a thrilling and gorgeously-played rendition, but while the ear does adjust somewhat, I doubt most casual listeners will bother. Besides, Busch's Brahms Second also appeared on the "Great Conductors of the Century" series, in a similarly fleet – but far better sounding – version with his Danish forces.
Busch's Mozart from Württemberg would be just as recommendable as his later work, except it's awfully hard to hear. The conductor's work with the composer's music is more audible on Guild GHCD2356. Still, through the mess of hiss and crackle is revealed a master of the theatre. The orchestra also plays very well. While the Beethoven excerpt is interesting, it's not essential. And should you demand a monaural version of the Reger, Karl Böhm and the Berlin Philharmonic will fit the bill. Despite many fascinating moments, I can only suggest a purchase to hardcore fans of historical conducting, and even they may want to be careful. A final note; Guild lists all the orchestras by official German title, which is unusual for Guild and makes this release just that much more strange.
Copyright © 2015, Brian Wigman