CD Review
Fritz Busch Conducts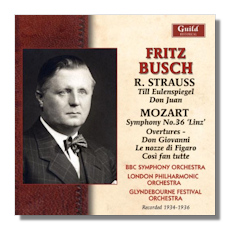 Don Juan, Op. 20 ***
Till Eulenspiegels lustige Streiche, Op. 28 *
Symphony #36 in C Major "Linz", K. 425 *
The Marriage of Figaro, K. 492 (Overture) **
Don Giovanni, K. 527 (Overture) **
Cosi fan tutte, K. 588 (Overture) **
* BBC Symphony Orchestra/Fritz Busch
** Glyndebourne Festival Orchestra/Fritz Busch
*** London Philharmonic Orchestra/Fritz Busch
Guild Historical GHCD2356 Monaural
This release is infinitely more user-friendly than Guild GHCD2371. Yes, it's still somewhat limited monaural sound, but at least these are studio recordings and you can hear what's going on. What's more, Busch has all three orchestras playing about as well as anyone could make them, given the time period. Finally, these two composers clearly brought out the best in the conductor as well, and hence this disc has considerable value.
Both Strauss items are tremendous, especially Don Juan. I don't recall it sounding this good in the "Great Conductors of the Century" entry, so this Guild issue is obviously working with good pressings. Musically speaking, let's just say that it was great when it sounded worse. Sure, Strauss benefits greatly from modern sound, but among monophonic entries, this ranks highly. Regarding Till, you wouldn't think that Adrian Boult's BBC Symphony was a great Strauss orchestra. They aren't, but Busch marshals them into shape, and they seem to be having an unusually good time. The Don Juan features a similarly engaged London Philharmonic Orchestra.
Also on the "Great Conductors" entry was a fine recording of the "Linz" Symphony from the podium of the Danish Radio Symphony Orchestra, now on Guild GHCD2339. This one differs only in small details, though arguably the Danish version is slightly preferable due to improved sound. Either way, Busch's Mozart is quite modern and wholly satisfying. Much like Bruno Walter, he effectively balances the drama and elegance of this music, highlighting its Classical structure.
Of even greater importance are the overtures from Glyndebourne. Busch recorded all three of these operas complete on 78s, and while their values have diminished due to poor sound and heavy cuts, the conducting remains a clinic. Busch has a great time with all three overtures, especially Cosi fan tutte, which recalls Solti, but with infinitely more warmth. The overture to Figaro sounds far better than the 1919 Württemberg broadcast on GHCD2371, while Don Giovanni's overture is equally fine. Rather than hunting down import copies of all three operas on Naxos Historical, buy this for a truly historic Mozart experience. This is highly recommended to listeners with an interest in the history of conducting.
Copyright © 2015, Brian Wigman