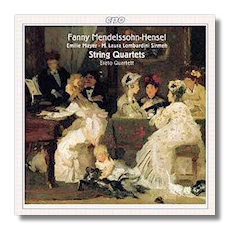 (Maddelena) Laura Lombardini Sirmen:
String Quartet Op. 3 #2 in B Flat Major
String Quartet Op. 3 #3 in G minor
Emilie Mayer: String Quartet, Op. 14
Fanny Mendelssohn-Hensel: String Quartet in E Flat Major

Erato Quartett Basel
CPO 999679-2 72:23
String quartets by three talented women composers from two different periods are presented on this fine sounding CD by the Erato Quartett Basel (Emilie Haudenschild & Attila Adamka, violins; Heinz Haudenschild, viola; Emeric Kostyak, violoncello). Laura Sirmen's (1745-1818) are the earliest, having elements of both late Baroque and early Classical period. Sirmen's graceful string quartets were published in the same year (1769) as Haydn's Op. 9 string quartets.
Fanny Mendelssohn-Hensel (1805-1847) was discouraged from publishing her compositions (under her own name) for most of her adult life, although she often worked in close partnership with her brother. This quartet was written in 1834. The second and fourth movements could not have been written by anyone other than a Mendelssohn! If you like the Felix Mendelssohn octet, you will certainly enjoy these lively movements!
Emilie Meyer (1812-1883; Groves: 1821-1883) was a multi-talented woman. She was not only a very prolific composer, but she was also a respected sculptor. Grove's Dictionary mentions among her compositions nine sonatas for violin and thirteen for cello, eleven piano trios, and seven string quartets. This quartet has the rich texture that inner-voice string players love: there is something interesting for every part. The second movement contains joyous and exciting (Mendelssohnian) motion. The third movement quotes a chorale tune and weaves variations around it, stylistically reminiscent of the finale of Felix Mendelssohn's Piano Trio #2, Op. 66. The Meyer string quartet closes with a pleasing finale and the entire quartet not only provides good listening but it also would be an excellent repertoire addition for string quartet players.