Introduction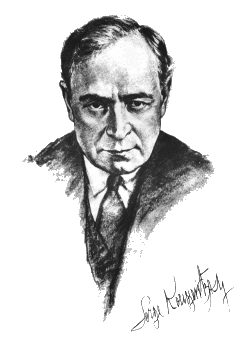 The Koussevitzky Recordings Society, Inc. was established in 1986 to celebrate the art of legendary conductor, Serge Koussevitzky. At that time, none of his many commercial recordings were in print and his contributions to the musical life of our century had been almost completely forgotten. Our first effort was a nationally-distributed radio program, "Koussevitzky and American Musical Independence". At the same time we embarked on a series of interviews, beginning with Nicolas Slonimsky (Koussevitzky's secretary in the 1920s). We have since interviewed many retired Boston Symphony musicians who played under Koussevitzky and talked with two of his favorite "young" composers: David Diamond and Lukas Foss. The results of our research are published in the Society's annual journals. The most recent featured comments by Leonard Bernstein on Koussevitzky from the 1974 Koussevitzky Symposium at Tanglewood.
The Society is a non-profit corporation staffed entirely by volunteers. Its president is Tom Godell. Victor Koshkin-Youritzin is our Vice President and Kevin P. Mostyn is Treasurer.
The Society has suspended publication of its journals; however, all past journals are available below in PDF format. Plans are underway to upload new articles, interviews, and reviews of CD reissues at this site. Information will be posted here as soon as these new items become available.
List of Articles Available Online
Dr. Victor Yuzefovich's Writings on Serge Koussevitzky
Presented by Victor Koshkin-Youritzin
Koussevitzky Concert Programs, Paris 1921-28 by Victor Koshkin-Youritzin
Remembering Koussevitzky
Interview with Conductor Anthony Morss by Victor Koshkin-Youritzin
Fresh Perspectives on Serge Koussevitzky:
Interview with Kermit Moore by Victor Koshkin-Youritzin
Koussevitzky: Missing in Action by Victor Koshkin-Youritzin
Memories of Koussevitzky - Interview with Attilio Poto by Victor Koshkin-Youritzin
Memories of Koussevitzky by Richard Burgin
Serge Koussevitzky's Writings on Music by Tom Godell
Revealing Stokowski
Interview with Anthony Morss by Victor Koshkin-Youritzin
Robert Ripley Interview by Martin Bookspan
CD Bronzing by Dave Lampson
Leonard Bernstein on Koussevitzky - Symposium at Tanglewood

Koussevitzky Journals - Contents of Past Issues
Vol. I, No. 1 (37MB)
Koussevitzky's Recordings: Beethoven, Brahms, Tchaikovsky, Khachaturian & Copland
Interview: Nicolas Slonimsky, Los Angeles 11/2/85
Book Review: Paul Tortelier: A Self Portrait in Conversation with David Blum.
Vol.. II, No. 1 (58MB)
Koussevitzky and His Biographers: Arthur Lourié & Moses Smith
Koussevitzky's Recordings: Stravinsky, Schubert & Fauré
Interview: John Barwicki, Tanglewood 8/16/87
Koussevitzky in Writing. Books by B.H. Haggin, Nicolas Nabokov, David Wooldridge & Leonard Bernstein
Book Review: Heifetz by Artur Weschler-Vered
Koussevitzky Bibliography, Part 1
Vol.. III, No. 1 (67MB)
Koussevitzky's Recordings: A Brief Overview
Interview: David Diamond, Rochester NY 6/28/88
Book Reviews: Bernard Shore's The Orchestra Speaks, Elaine Brody's Paris: The Musical Kaleidoscope & Selected Letters of Virgil Thomson, edited by Tim & Vanessa Page.
CD Review: The First Koussevitzky Compact Disc (from Japan)
Koussevitzky Bibliography, Part 2
Vol.. III, No. 2 (18MB)
Interview: Thomas D. Perry, Jr., Tanglewood 8/23/89
Koussevitzky & Piatigorsky: An Affectionate Look by Terry King
Vol.. IV, No. 1 (84MB)
Koussevitzky as Author
Interview: Lukas Foss
The Writings of Vernon Duke/Vladimir Dukelsky
Koussevitzky's Recordings: Mozart, Haydn & Wagner
Book Review: Copland Since 1943 by Aaron Copland & Vivian Perlis
Vol.. IV, No. 2 (30MB)
Interview: Aaron Copland, Peekskill NY 2/12/76
Interview: Charles Dutoit, Tanglewood 1989
Book Review: The Other Side of the Record by Charles O'Connell
Vol.. V, No. 1 (75MB)
Interview: Boris Goldovsky, Boston 4/21/89
"Koussevitzky, Sibelius & The Art of Recording" by Jim Svejda
Koussevitzky's Recordings: Bach, Ravel & Strauss
Vol.. V, No. 2 (20MB)
A discography of Koussevitzky's Commercial Recordings
Vol.. VI, No. 1 (66MB)
Interview: Harry Shapiro, Tanglewood 8/1/91
Interview: Roger Voisin, Tanglewood 8/23/91
Koussevitzky's Recordings: Rimsky-Korsakov, Rachmaninoff, Sibelius, Moussorgsky, Prokofieff & Berlioz
The Koussevitzkys Leave Soviet Russia
Tanglewood: An Annotated Bibliography
Vol.. VI, No. 2 (32MB)
Koussevitzky Pirates: A Buyer's Guide
Koussevitzky CDs: Banned in Boston
A discography of Koussevitzky's Pirate Recordings
Vol.. VII, No. 1 (56MB)
Interview with Manuel Zung, 9/26/91
Interview with Karl Zeise, 8/9/91
Tanglewood: An Annotated Bibliography, Part 2
Koussevitzky's Recordings: Debussy & Foote
Music at Tanglewood: 1934-1939
Vol.. VII, No. 2 (44MB)
Music at Tanglewood: 1940-1950
Koussevitzky's Recordings: Harris, Liadov, Liszt, McDonald, Schumann & Vivaldi
Book Reviews: Samuel Barber: The Composer & His Music, by Barbara Heyman; and Benjamin Britten: A Biography, by Humphrey Carpenter.
Vol.. VIII, No. 1 (102MB)
Remembering Koussevitzky: An Interview with Conductor Anthony Morss
Vol.. VIII, No. 2 (94MB)
Koussevitzky Symposium at Tanglewood, 7/27/74
Recent Koussevitzky Compact Discs
Book Reviews: Leonard Bernstein, by Humphrey Burton; and Fritz Reiner, by Philip Hart
Interview with Gerard Schwarz
Mini-Maestrino I
CD Bronzing by Dave Lampson
Letters to the Editor
Vol.. IX, No. 1 (103MB)
Arthur Berger Interview
The Moses Smith Problem, by Jerome Harkins
Heroes, by Justice Harry Blackmun
Koussevitzky-As the Rodzinskis Saw Him, by Kenneth DeKay
The Stokowski Sound, by R. M. Stumpf II
Vol.. IX, No. 2 (89MB)
Robert Ripley Interview, by Martin Bookspan
The Goossens: A Musical Century reviewed by Kenneth DeKay
BSO Classics, "The Sessions of November 22, 1944" reviewed by Louis Harrison
Maestrino: The Stokowski Legacy, by Robert M. Stumpf II
Revealing Stokowski: Victor Koshkin-Youritzin's Interview with Anthony Morss
Sylvan Levin Obituary, by Robert M. Stumpf II
Vol.. X, No. 1 (103MB)
Koussevitzky & The Centennial Symphony, by Louis Harrison
Willis Page Interview, by Robert Ripley
Koussevitzky v. the IRS, by Radcliffe Bond
Reviews & Comments, by Robert M. Stumpf II
Morss Interview Part II, by Victor Koshkin-Youritzin
Vol.. X, No. 2 (104MB)
A Musical Revelation, by Vincent C. Schwerin, Jr
Serge Koussevitzky's Writings on Music, by Tom Godell
Music and Christianity, by Serge Koussevitzky
Henry Freeman Interview, by Robert Ripley
The Stokowski Sound: Schéhérazade, by Bob Stumpf
Morss Interview Part III, by Victor Koshkin-Youritzin
Book Reviews, by Kenneth DeKay
Vol.. XI, No. 1 (76MB)
Pasquale Cardillo Interview, by Bob Ripley
Koussevitzky and His Guests, 1924-1944, by Kenneth DeKay
Memories of Koussevitzky, by Richard Burgin
The Levin Letters, by Bob Stumpf
Morss Interview Part IV, by Victor Koshkin-Youritzin
Stokowski in Chicago, by Kenneth DeKay