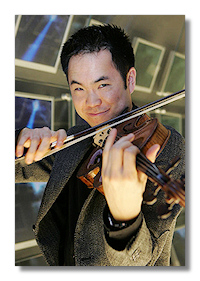 Violist Richard Yongjae O'Neill's Art of Giving
By Lee Hyo-won

Violist Richard Yongjae O'Neill reminds you of the Energizer Bunny. He keeps going and going. For the 29-year-old violist, it would be typical to go on a cross-country tour with Schubert across Korea, and then fly to Los Angeles to teach for eight hours before heading to New York. After a few days of playing chamber music at the Lincoln Center and fiddling contemporary pieces at the Guggenheim, he's on the move again. Following a quick stop to lecture at UCLA, he's in Milan with John Zorn, making modern music history. This is how 2007 zipped past for the musician.
One of the few violists to ever receive the prestigious Avery Fisher Career Grant as well as a Grammy Award nomination (Best Soloist with Orchestra), Richard Yongjae O'Neill is rising to prominence as one of the leading artists of his generation. But it seems to be more than a deep passion for music that keeps him going. It is the power of sharing through music.
"An artist should give of oneself. It's important to give, to share, to reflect on the human condition, our finite existence, life, pain, death, all of these things,'' O'Neill told The Korea Times in January when he visited Seoul. He was celebrating New Year's with his New York-based chamber group Sejong Soloists at one of their sellout performances.
Read the complete interview at the Korea Times website:
http://www.koreatimes.co.kr/www/news/art/2008/03/143_20390.html