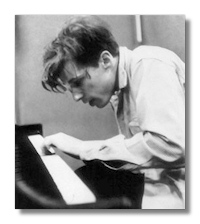 Method & madness: The oddities of the virtuosi

What is it about elite pianists? Some are charmingly eccentric, others just insane. Michael Church looks at the oddities of the virtuosi
"It's like a horse before the race," said the great Vladimir Horowitz of his feelings before a recital. "You start to perspire, you feel already in you electricity. I am a general, my soldiers are the keys."
Marshalling their mountains of notes from memory, concert pianists need the skill of jugglers and the strength and stamina of athletes. Meanwhile, in their fusion of instinct and intellect, they must be supreme aesthetes. And they must do all this without safety nets: if their memory fails, or their fingers foul up, all they have is an unforgiving crowd. It takes an unusual person to put their life on the line like this. No wonder many pianists are oddballs; no wonder some go mad.
Such thoughts are prompted by the recent release of yet more posthumous discs on the BBC Legends label of those wonderfully eccentric Russians Shura Cherkassky and Sviatoslav Richter; and by two other massive projects: the four-CD box plus book from Naxos entitled A-Z of Pianists; and the 80-CD box of the original Sony-Columbia recordings by Glenn Gould, who was both a god of the keyboard and more than a little mad. And these are just the tip of the iceberg: we can now survey an entire century of pianism's brilliant weirdness, thanks to the voluminous evidence that record companies are now putting out.
Read more about this at the The Independent website:
http://www.independent.co.uk/arts-entertainment/music/features/method--madness-the-oddities-of-the-virtuosi-794373.html