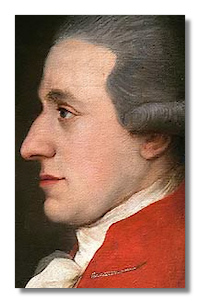 True face of Mozart revealed
Dalya Alberge,
Arts Correspondent

His image in curled wig, embroidered red tunic and lace ruff stares out from kitsch portraits, decorative porcelain and chocolate boxes without number, but nobody really knew what Wolfgang Amadeus Mozart looked like – until now.
To the great excitement of musical scholars, two previously-unknown oil portraits painted from life – and which can be traced back to a close friend of the composer's father – have been discovered.
They were identified by Cliff Eisen, Professor of music history at King's College London, who has found documentary evidence that links them to letters written by Mozart and his father, Leopold.
One was painted in 1783, during the composer's early years in Vienna when he was in buoyant mood after his marriage to Constanze. Measuring about 19in by 14in (47x35cm), it is by Joseph Hickel, painter to the imperial court. It is now considered so important that it has been insured for £2 million.
Read more about this at the Times website:
http://entertainment.timesonline.co.uk/tol/arts_and_entertainment/music/article3549310.ece