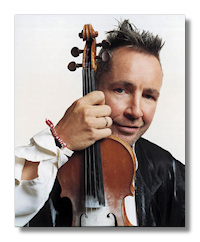 Nigel Kennedy criticises "egocentric" conductors
By Robyn Powell and agencies

Violinist Nigel Kennedy has criticised star conductors for their egocentric behaviour, for being more interested in promoting their image, than spending time with an orchestra.
Kennedy said some conductors spent only a few weeks with an orchestra. He told The Times: "How many will develop an orchestra rather than feeding off its achievements? They're straight off for the dollar. Round the corner to get a better job. All they're interested in is strutting about, wielding a bit of power.
Nigel Kennedy denounced conducting as an art form
"A conductor can galvanise the troops and evolve an artistic programme and identity of style. If they only give five or ten weeks a year [to an orchestra], how can they do that?" However, he declined to name any specific conductors. But denounced conducting as a form of art for his preference for playing music. "Why would you want to stand there waving a stick when you could be playing an instrument?" he said.
Read more about this at the Telegraph website:
http://www.telegraph.co.uk/news/main.jhtml?xml=/news/2008/03/12/nkennedy112.xml