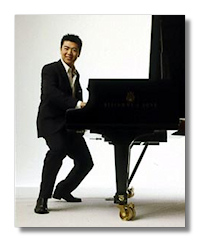 Pianist shines for new generation of classical music fans
By Chris Shull

Lang Lang may be known for his pyrotechnic performances of the great piano pieces of the 19th century, but he is truly a musician of today.
The 25-year-old is as at home on the Internet as he is in the world's great concert halls. He's appeared as a cartoon "avatar" in the online virtual world Second Life, and he's serenaded the Muppets on Sesame Street. He's a regular on YouTube, and he soloed with Herbie Hancock on George Gershwin's Rhapsody in Blue during the recent Grammy Awards telecast.
Although Lang says he embraces TV and the Internet as tools to attract his generation to classical music, some critics argue that his fame has interfered with his development as an artist and a performer.
Read more about this including an interview with Lang Lang at the Star-Telegram website:
http://www.star-telegram.com/performing_arts/story/552534.html