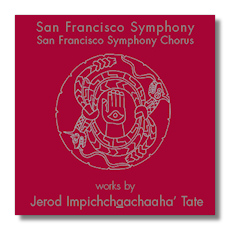 Cleveland label releases its first CD of classical music by an American Indian composer
by Donald Rosenberg
Cleveland Plain Dealer Music Critic
Cleveland recording producer Alan Bise stands amid boxes filled with the first compact disc on his new label, Thunderbird Records, which is devoted to music by American Indian composers. Like aspiring writers who dream of their first novel being published, composers submit music to orchestras in the hope that a performance will ensue. The usual response: silence.
But a project that Jerod Impichchaachaaha' Tate, a native of the Chickasaw Nation and graduate of the Cleveland Institute of Music, proposed to the San Francisco Symphony was too intriguing to ignore.
Last week, a recording by the San Francisco Symphony and Chorus of two Tate works with roots in American Indian soil became reality. The compact disc is the first release by Thunderbird Records, a Cleveland-based company founded by audio producer Alan Bise, who studied at CIM when Tate was taking baby steps as a composer.
The recording was made in June in the orchestra's home, Davies Symphony Hall, with former resident conductor Edwin Outwater on the podium. The flute soloists are Christine Bailey Davis, principal flute of New York's Buffalo Philharmonic and a CIM graduate, and Thomas Robertello, a former member of the Cleveland Orchestra.
Bise vowed to create a recording company devoted to classical music by American Indian composers in 2004 after hearing "Worth of the Soul," Tate's celebration of Indian warriors. Another year passed before circumstances leading to the first Thunderbird recording came up.
Read more about this and listen to audio samples at the Plain Dealer website:
http://www.cleveland.com/entertainment/index.ssf/2008/03/cleveland_label_releases_its_f.html