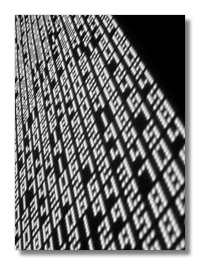 Ryoji Ikeda
By Donald Eubank

So forward-looking that it's hard to categorize him - Is he an artist? A musician? A conceptualist? - Ryoji Ikeda makes the music that we'll lull the robots to sleep with when they ultimately try to take over. Or that we'll use to convince ourselves that we are the robots.
For performances, Ikeda - who says the most important aspects of his works are "ideas and results" - matches his dense electronic compositions with visuals that could come from a monitor of whatever machine would produce such sounds. The scale of his works feels immense - his last performance in Japan was of "datamatics [prototype]" at the Tokyo International Forum's cavernous Hall C, in which a screen stretched across the full stage projected digital noise. James Brown it's not.
Earlier, Ikeda worked with Hiroshi Sugimoto to produce the crunching sonic backdrop at the Mori Art Museum's exhibition of the photographer's iconic prints of ocean horizons. For his latest, the multitalented artist is revising "datamatics" as a "[ver. 2.0]" in Itami on March 13 and Tokyo March 16.
Read the interview with Ryoji Ikeda at the Japan Times Online website: