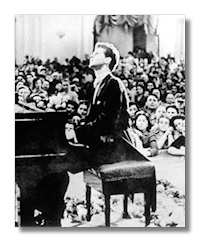 Cold War, Hot Pianist. Now Add 50 Years.
By Anthony Tommasini

Fort Worth, Texas
A half-century after meeting him, the Russian people still adore Van Cliburn. That was the message conveyed by Aleksandr S. Sokolov, the Russian minister of culture, and Yuri V. Ushakov, the Russian ambassador to the United States, during toasts at a black-tie dinner and musical tribute here on March 1. Sponsored by the Van Cliburn Foundation, the event commemorated the 50th anniversary of Mr. Cliburn's victory in the first Tchaikovsky International Piano Competition in Moscow in April 1958.
Before nearly 1,000 guests in an elaborate 40,000-square-foot tent on the grounds of the Kimbell Art Museum, Mr. Sokolov read a message of congratulations from President Vladimir V. Putin, an honorary sponsor of the event, who could not attend. Mr. Ushakov paid tribute to the "two Van Cliburns," as he put it: the proud Texan who conquered Russian hearts with his magnificent artistry and the honorary Russian who was mobbed by Muscovites on the streets hugging and kissing him amid shouts of "Van KLEE-burn!"
Mr. Cliburn, 73, as trim, bright-eyed and effusive as ever, his bushy hair still thick though gray, looked overcome with emotion. He offered a few phrases of gratitude in well-practiced Russian, then delivered an endearingly rambling speech about "200 years of friendship between Russia and America," starting with an exchange of warm letters between President Thomas Jefferson and Czar Alexander I.
But this had to have been a bittersweet evening for Mr. Cliburn, who for nearly 30 years has largely been missing from the classical music field that he electrified during his glory days. Many towering creative artists make their lasting contributions during their youths. Orson Welles and Tennessee Williams come to mind. Some might add the Beatles to that list.
Van Cliburn is another such artist. For a good dozen years he was the best known and most popular classical musician in the world. His recordings routinely sold in the hundreds of thousands. His success was hard won and much deserved. But over time the expectations that this cultural emissary and musical superstar faced were impossible to fulfill. His playing declined. After a dispiriting concert in Toledo, Ohio, in 1978, he announced that he was taking a sabbatical. By the late 1980s he had begun playing again, but infrequently. He left his New York apartment and moved to a spacious house in the suburbs of Fort Worth.
Reflecting on his current life during a visit to New York in January he seemed wistful but at peace. "I do play concerts from time to time," he said. "I work at home quietly, go to the opera, hear concerts, see friends. I like making up now for what I was not able to have then. And I still have to practice."
Read more about this at the New York Times website: