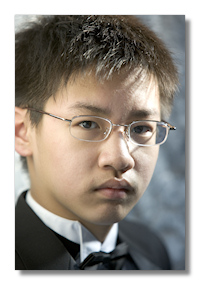 The Tao of Early Musical Success
By Barbara Jepson


The stereotypical musical prodigy has remarkable musical memory, brilliant technique, and a prematurely shortened career. Pianist Conrad Tao, who gave a winning performance with the Russian National Orchestra here recently at the Festival of the Arts BOCA, possesses the first two characteristics in good measure. One hopes he will avoid the third, joining the ranks of such successful former prodigies as the 52-year-old cellist Yo-Yo Ma and the 65-year-old conductor-pianist Daniel Barenboim.
But who knows? The 13-year-old Mr. Tao, a student at the Pre-College Division of The Juilliard School in New York, may decide to chuck music altogether. Or he may become overexposed by the age of 25 – one of the risks of turning "pro" earlier than most. By that time, later-blooming peers will have come into their own artistically, providing new faces for concert presenters to book, and the next wave of precocious youngsters will be nipping at his heels.
So why expose young musical phenoms to the marketplace just as they enter the more vulnerable adolescent years? In a field overcrowded with keyboard players, says his teacher, Yoheved ("Veda") Kaplinsky, head of the piano department at Juilliard, there are two ways for artists to stand out. "One is to win an international competition," she says. "It doesn't guarantee anything, but it gives you an entrée. The other is to start out as a prodigy and make your name that way."
Read more about this at the Wall Street Journal website: