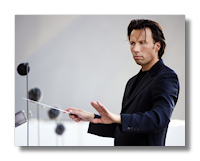 More power to the performer
By Matthew Westwood

Classical music, as it grew progressively more complex through the romantic period onwards, evolved into a mind game where the composer always had the psychological lead.
Musical scores came to be written as if dogma, down to the last pedantic detail; performers, even brilliant ones, became mere instruments to the composer's vision.
That may be a bleak view of the concert hall. But Kristjan Jarvi, the energetic Estonian-born conductor, is disdainful of the pseudo-intellectualism of some contemporary music and the "academic blackmail" to which it subjects performers.
The pianist and conductor is doing his bit to address the perceived imbalance between composer and musician. It's not so much a contest of wills as a spectator sport in which music as well as audiences should benefit.
"It is really important to make the performers feel that they have freedom, that they can express music rather than just play the notes," Jarvi says on the phone from Hanover, Germany.
Read more about this at The Australian website:
http://www.theaustralian.news.com.au/story/0,,23624489-16947,00.html