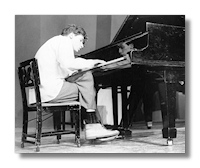 The hunt for the perfect instrument
[Glenn Gould adored his Steinway concert grand No. 318 – then the movers smashed it…]
By John Terauds

Katie Hafner's suggestively titled book – A Romance on Three Legs: Glenn Gould's Obsessive Quest for the Perfect Piano – is like an executive summary for which someone has condensed all the need-to-know information into a tidy package. In this case, the perplexing eccentricities of Glenn Gould, both man and artist, are wrapped around one of his chief obsessions: finding the right piano.
To get into the spirit, try to imagine how a favourite paintbrush or garden spade feels in your hand. Or consider how your bicycle or car responds to your body's inputs.
Tactile memory is our window on the intimate sensual relationship that a musician has with his or her instrument. Because they're made from wood and other climate-sensitive materials, most instruments end up with a unique touch, sound and personality.
Read more about this at the Toronto Star website: