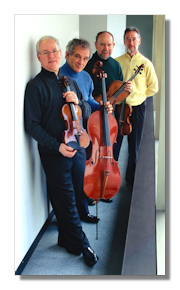 Juilliard String Quartet announces a new violinist for 2009/2010
On October 20, 2008 Juilliard President Joseph W. Polisi announced that 36-year-old violinist and Juilliard alumnus Nick Eanet will join the Juilliard String Quartet as first violinist in July 2009. He also becomes a member of the Juilliard violin faculty beginning with the fall 2009 semester. A Brooklyn native, Nick is concertmaster of the Metropolitan Opera Orchestra, former first violinist of the Mendelssohn Quartet, a former student of founding first violinist Robert Mann – a very natural fit for the Juilliard String Quartet Family.
Mr. Eanet follows violinist Joel Smirnoff as first violin; Mr. Smirnoff has become President of the Cleveland Institute of Music and performs with the Quartet through the 2008-2009 season, finishing his stellar tenure at Tanglewood on June 28, 2009.
Click to read the full press release and for the New York Times piece by Daniel Wakin that broke the story.