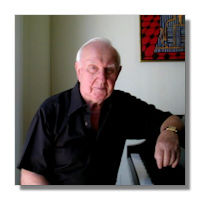 Benjamin Lees, Versatile Composer, Dies at 86
By Margalit Fox

Benjamin Lees, an iconoclastic American composer who spurned modern musical trends in favor of work that was lyrical, tonal and widely described as approachable, died on May 31 in Glen Cove, on Long Island. He was 86 and had recently returned to the New York area after living in Palm Springs, Calif., for many years.
The cause was heart failure, his daughter, Jan Rexon, said. Mr. Lees was previously a longtime resident of Great Neck, N.Y.
Known for his versatility, Mr. Lees wrote for symphony orchestra, solo instruments, voice and chamber ensembles. After coming to prominence in the 1950s, he received commissions from major American orchestras; his solo and chamber works were given premieres by distinguished artists like the pianist Gary Graffman, the violinist Ruggiero Ricci and the Budapest and Tokyo String Quartets.
Read more about this at the New York Times website: