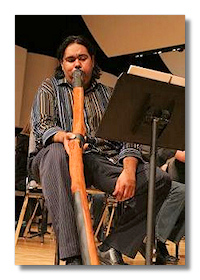 A breath of fresh air for the classical tradition
By Harriet Cunningham

The Sydney Symphony is learning a new work. The rhythms are complex, and notes fly out in all directions. Conductor Richard Gill, in his best headmaster voice, stops the musicians, points out the key underlying beats, barks out a bar number and raises his baton. And there, almost miraculously, the music starts to emerge from the morass, the opposing riffs meshing into a fascinating wall of sound.
Alongside the conductor, looking remarkably unflappable, sits soloist and joint composer William Barton. The work, Kalkadungu, was commissioned for the orchestra by Maggie Gray and Roger Allen; scored for orchestra with didgeridoo, electric guitar and vocals (all three performed by Barton).
Most significantly, Kalkadungu is a collaboration between two musicians, the Mount Isa-born Barton and the white Australian composer Matthew Hindson, bringing ancient Australian culture face to face with the Western classical tradition.
Hindson, who lectures in composition at the University of Sydney, is an old hand at writing for orchestra, which is why this project presented such a tantalising challenge.
Read more about this at the Sydney Morning Herald website:
http://www.smh.com.au/news/arts/a-breath-of-fresh-air-for-the-classical-tradition/