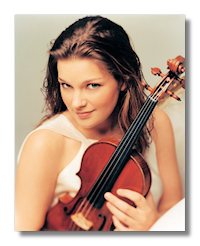 Saint Louis Symphony Orchestra: A Sex Appeal
By Eddie Silva

Let's talk about sex – and classical music.
A couple of years ago the writer Greg Sandow, who discusses the state and fate of classical music on artsjournal.com, alerted his readers to the emergence of an audacious new feature in MUSO, a magazine based in the UK that writes about the classical music world the way Spin writes about rock & roll. In MUSO's online version, Sandow heralded, is a section called "G Spot," which features a list of fans picks for sexiest soloists, with pictures and commentary.
For example, violinist Joshua Bell is described to be "As American as apple pie and just as tasty." Pianist Hélène Grimaud is praised for her "gamine gaze." Room is left for praise of the artists' musicianship, "supreme skills across an extraordinary range of repertoire" and "steely pianistic strength," but the message MUSO spreads is that having one gift does not belie the other. And, more importantly, classical can be hot.
Classical music is declared dead, usually with deep regret, by some astute and erudite critic on a regular basis. And just as it is declared dead, it is passionately declared alive and well by another astute and erudite critic – usually the next day. Death and resurrection is a great theme of religion and literature, but a steady dose of it can be emotionally depleting, especially if it happens to be your art form being compared to Lazarus. Within the chronicling of the death-life continuum of classical music, at least one fact is inarguable: classical music's presence near the center of popular culture has diminished considerably over (at least) the last two decades.
Read more about this at the Playbill Arts website: