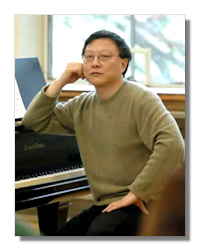 Sheng work lets symphony tap into Class of '78
By Janice Steinberg


Chinese melodies meet Stravinsky in the music of Bright Sheng, recipient of a 2001 MacArthur Foundation "genius" grant. Sheng's first harp concerto, "Never Far Away," will be given its world premiere by the San Diego Symphony with harpist Yolanda Kondonassis next weekend.
For the symphony's music director, Jahja Ling, "The wonderful thing about his compositions (is) he is able to fuse the Western and Chinese musical language."
What could be more appropriate, in the age of the Beijing Olympics and global Internet culture, than musical dialogues between East and West? In fact, Sheng is one of several prominent Chinese-American composers – along with Tan Dun, Chen Yi and Zhou Long – who mix elements of Chinese and Western music.
Read more about this at the Union-Tribune website:
http://www.signonsandiego.com/news/features/20081019-9999-1a19sheng.html